« Magic Land » , le dernier social game de wooga, le deuxième éditeur mondial de jeux sociaux, est maintenant disponible sur Facebook. Cette histoire captivante reprend des coutumes et des légendes médiévales en mélangeant les caractéristiques des jeux de rôle, de simulation de construction, et d'aventure. Pour un jeu Facebook, « Magic Land » offre des personnages particulièrement bien développés, des graphismes de haute qualité, et un gameplay qui promet de longues heures de jeu avec de vrais amis.
Le fondateur et CEO de wooga, Jens Begemann, a annoncé « Magic Land » aujourd'hui à la Game Developers Conference Europe de Cologne, en Allemagne, qui précède la Gamescom. Durant sa keynote, il a évoqué le changement imminent de l'industrie du jeu en un marché du divertissement de masse. Begemann explique ainsi : «Les jeux sociaux vont constituer pour l'industrie du jeu un excellent moyen d'accéder au divertissement de masse. Même à l'heure actuelle, certains jeux touchent plus de personnes quotidiennement que les principaux programmes télévisés. La prochaine étape dans cette évolution est de favoriser l'immersion du joueur, en augmentant la profondeur du scénario et en développant la coopération, la communication et l'interaction sociales. Nous évoluons dans cette perspective avec « Magic Land ». »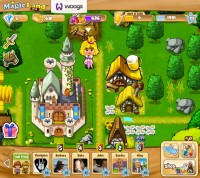 Le nouveau jeu social de cette jeune entreprise berlinoise projette le joueur dans un fantastique univers onirique, plein de trésors et de magie. Le royaume de « Magic Land » est gouverné par le Roi Artie et la Reine Carmen, mais des phénomènes étranges se produisent. Un brouillard opaque couvre une grande partie de « Magic Land », cachant des trolls démoniaques et des gobelins. Par ailleurs, de gentils dragons se sont tournés contre les citoyens, et l'un d'eux a même kidnappé les enfants du Roi. Les joueurs relèvent le défi de libérer la princesse et le prince tout en construisant leur propre royaume. Pour se préparer au combat, les joueurs doivent nettoyer le royaume de ce lugubre brouillard, chouchouter des licornes, vaincre les monstres, gagner des alliés et bâtir une ville prospère. En plus de la construction d'un magnifique château, les joueurs doivent cultiver des légumes pour nourrir leurs fidèles et créer une ambiance royale, notamment grâce aux décorations. Le Roi ainsi que de nombreux autres alliés, tels que Ozzy le Magicien ou le Chevalier Sir Peureux, demandent de l'aide aux joueurs dans de fantastiques missions dont la réussite va révéler progressivement l'histoire magique du royaume.
Tout en collectant des objets et en menant à bien ces missions, l'accent sera mis sur le partage de l'expérience de jeu avec ses amis. La visite quotidienne des royaumes de ses amis sera récompensée et certaines missions, comme la pendaison de crémaillère organisée dans son propre château, peuvent être accomplies uniquement grâce à l'aide de ses amis. La créativité et l'originalité qui place « Magic Land » au-dessus des autres jeux sociaux peuvent être attribuées à l'équipe internationale de développeurs, venant de onze pays différents, qui ont peaufiné le jeu avec amour durant ces six derniers mois à Berlin. Des fonctions additionnelles vont introduire une interaction entre amis encore jamais vue et prolonger cette histoire passionnante. Ils travaillent déjà sur ce projet et vont compléter le jeu dans les semaines à venir.
De plus, « Magic Land » est disponible dans sept langues différentes et bénéficiera d'une extension  HTLM5 « Magic Land – Island », qui proposera une suite du jeu sur smartphones.
A la Game Developers Conference Europe, de 15h20 à 16h10, Henric Suuronen, Head of Studio chez wooga et Lead Designer sur « Magic Land », expliquera le processus de création et les origines de ce tout nouveau social game lors de son panel Killer Game Loops in Social Games.
wooga présent à la GDC les 15 et 16 Août 2011 à l'emplacement CC Ost#159 et à la Gamescom les 17 et 18 Août 2011 dans le Hall 4.1, D30/D31 dans l'espace de la G.A.M.E. Association.
Caractéristiques :
Des graphismes de qualité, un design soigné et détaillé
Une histoire passionnante avec des objectifs de jeux captivants
Une interaction sociale ancrée dans le jeu
Des paramètres d'aventure qui encouragent les joueurs à explorer la carte
D'innombrables missions et énigmes avec des personnages enthousiasmant et plein d'humour
Sept différentes versions disponibles (Allemand, Anglais, Français, Italien, Espagnol, Portugais et Turque)
Une solide simulation de construction de ville avec de l'agriculture, des constructions de maisons et d'un château, des décorations et des boosts.
A venir :
Une extension HTLM5 « Magic Land- Islands » pour un jeu sur différentes plateformes
Trois extensions de la carte et des customisations de personnages.
A propos de wooga
Fondé en 2009 à Berlin, le hub technologique leader en Europe, wooga – Word Of Gaming est le deuxième éditeur mondial de jeux sociaux. wooga crée des jeux de qualité pour Facebook et iOS, avec une attention particulière apportée au développement des émotions des personnages, la facilité d'utilisation et la traduction en sept langues.
wooga se consacre à la création de jeux innovants et originaux pour les joueurs de tout âge, réunissant des millions d'utilisateurs à travers le monde.
Les jeux Facebook gratuits de Wooga sont appréciés par plus de 35 millions de joueurs actifs par mois – dont 70% de femmes. Ils génèrent un revenu par la vente de biens virtuels : les joueurs de Monster World, par exemple, ont acheté plus de 28 millions de baguettes magiques, faisant ainsi de wooga le plus grand fournisseur virtuel d'équipements magiques au monde.
wooga est également un leader mondial dans le développement de technologies de pointe intégrant la dimension multi-joueurs, permettant ainsi à des millions d'utilisateurs de rivaliser avec leurs amis.
Pour plus d'information, rendez-vous sur le site www.wooga.com.
https://www.minuitdouze.com/wp-content/uploads/logomagicland.jpg
87
228
Morgane Falaize
http://www.minuitdouze.com/wp-content/uploads/Minuit_Douze_logo.png
Morgane Falaize
2011-08-16 10:36:47
2015-11-23 11:41:41
« Magic Land » - wooga sort un nouveau social game